In the first instance you should go here and read our advice page. It is just our general guidance to help you
SCAM/SPAM
Advance Fee Fraud
Phishing
with the name of
PayPal lnc
(Benin)
7xr3yhVy.7xr3yhVy@7xr3yhVy.v.domain7xr3yhVy.com
postmaster@appserviceapp.com
Message on  a mail box:
From: "PayPal lnc." 


7xr3yhVy.7xr3yhVy@7xr3yhVy.v.domain7xr3yhVy.com




To: XXXX




Date: Wed, 7 Feb 2018




Subject: We noticed some significant changes 
         to your account activities. on
[Return-Path: postmaster@appserviceapp.com]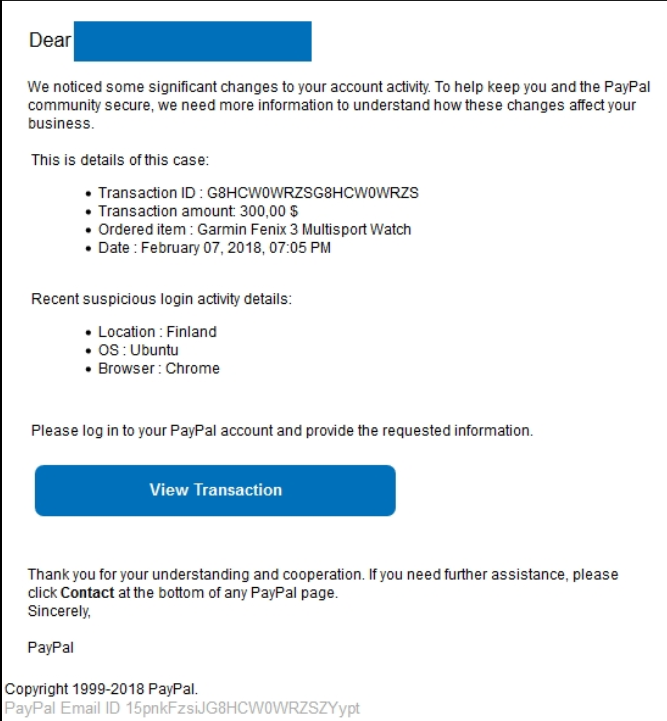 TEXT:
Dear (e-mail address removed),
We noticed some significant changes to your account activity. To help keep you and the PayPal community secure, we need more information to understand how these changes affect your business.
This is details of this case:
Transaction ID : G8HCW0WRZSG8HCW0WRZS
Transaction amount: 300,00 $
Ordered item : Garmin Fenix 3 Multisport Watch
Date : February 07, 2018, 07:05 PM
Recent suspicious login activity details:
Location : Finland
OS : Ubuntu
Browser : Chrome
Please log in to your ΡayΡal account and provide the requested information.

  (Do not click the button!)
Thank you for your understanding and cooperation. If you need further assistance, please click Contact at the bottom of any ΡayΡal page.
Sincerely,
ΡayΡal
Copyright 1999-2018 ΡayΡal.
ΡayΡal Email ID 15pnkFzsiJG8HCW0WRZSZYypt
*(!) Never send your personal details to anybody on the Internet!
 DO NOT CLICK the LINKS IN SUCH LETTERS!
If you get this message do not reply! Put it in your trash box


Visit our INFORMATION PAGES:
You can subscribe to our website from the box in the right column to get information about new posts.
If you subscribe please check your SPAM BOX