In the first instance you should go here and read our advice page. It is just our general guidance to help you
Fast and furious, and we are bit short of information on

MICHAEL RITCHER 

so we get that down and also their pictures if we can. We don't want them to miss out on our treats. We are nice like that. Hopefully life is a little harder for them and it will help save you wasting money sending it to Nigeria/Ghana/Senegal/

Côte d'Ivoire/Benin/Togo etc.

You have to remember if it walks like a duck, talks like a duck, and looks like a duck then there is a better than evens chance it IS a duck
419 Scam
Romance Scam
Fake Military
Michael/Micheal Ritcher
michaelritch14@gmail.com
Zorpia.com: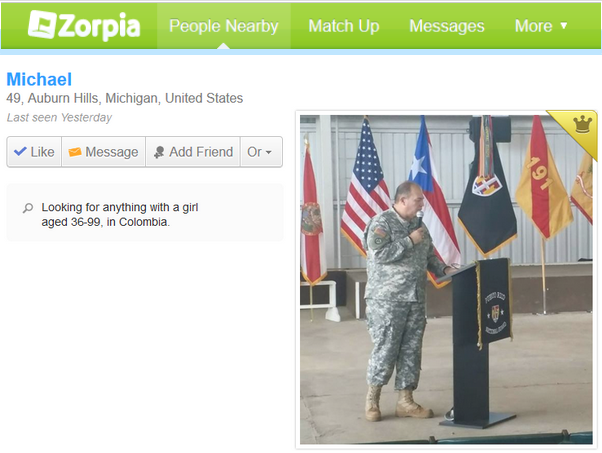 PROFILE INFORMATION:
Age: 49
Gender: Male
Location: Auburn Hills, Michigan, United States
Zorpia.com. INBOX: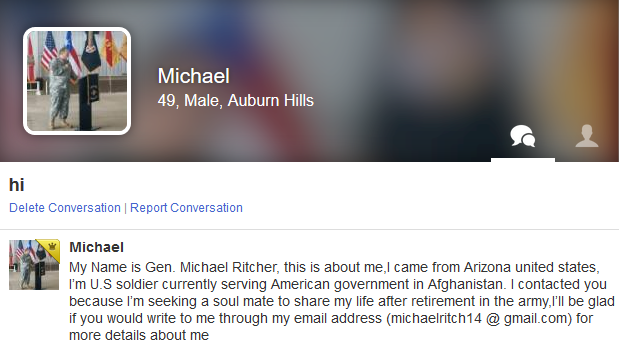 Michael:
My Name is Gen. Michael Ritcher, this is about me,I came from Arizona united states, I'm U.S soldier currently serving American government in Afghanistan. I contacted you because I'm seeking a soul mate to share my life after retirement in the army,I'll be glad if you would write to me through my email address (michaelritch14 @gmail.com) for more details about me
Fake scammer Profiles with the name "Michael/Micheal Ritcher"
OK.ru ("Classmates", Russian site):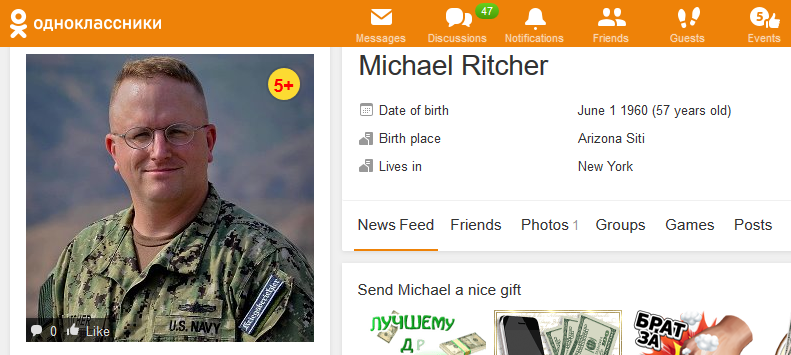 PROFILE INFORMATION:
Date of birth: June 1 1960 (57 years old)
Birth place: Arizona Siti (
)
Lives in: New York
Facebook.com:
Micheal Ritcher
https://www.facebook.com/profile.php?id=100015681012690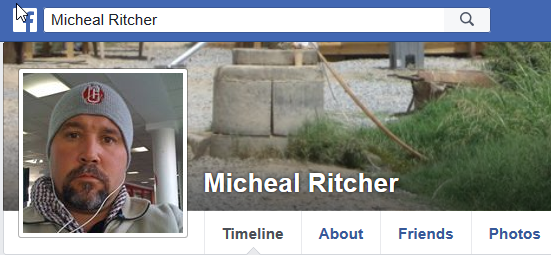 PROFILE INFORMATION:
Works at U.S. Army
Studied at Brooklyn College
Went to South Shore High School
Lives in California City, California
From Los Angeles, California
Deleted Profile with photo of the same man:
FindCoolPeople.com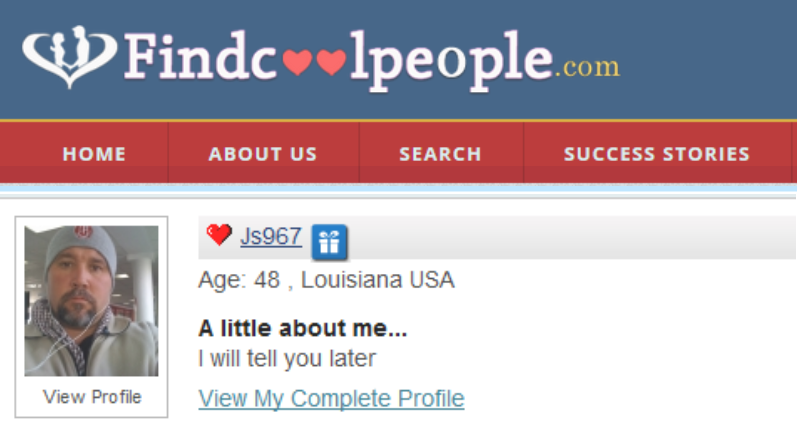 PROFILE INFORMATION:
Js967
Age: 48
Location: Louisiana USA

Visit our INFORMATION PAGES:
You can subscribe to our website from the box in the right column to get information about new posts.
If you subscribe please check your SPAM BOX