In the first instance you should go here and read our advice page. It is just our general guidance to help you
Fast and furious, and we are bit short of information  so  we get that down and also their pictures if we can.  We don't want them to miss out on our treats.  We  are nice like that.  Hopefully  life is a little harder for them and it will help save you wasting money sending it to Nigeria/Ghana/Senegal/

Côte d'Ivoire/Benin

You have to remember if it walks like a duck,  talks like a duck, and looks like a duck then there is a better than evens chance it IS a duck
419 Scam
Romance Scam
Jacob B
Tagged.com:
Jacob B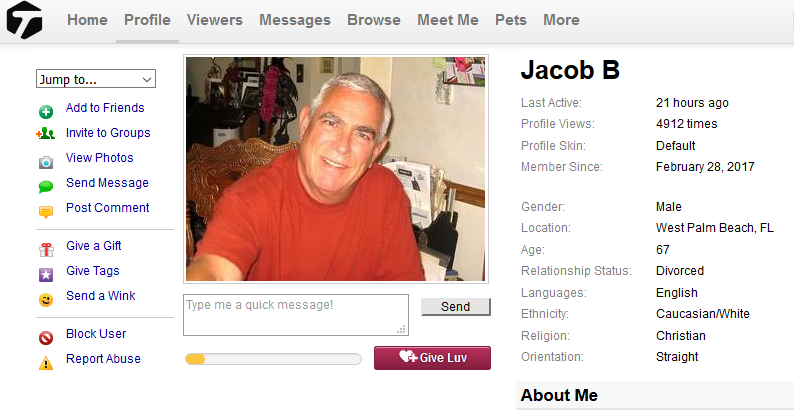 PROFILE INFORMATION:
Member Since: February 28, 2017
Gender: Male
Location: West Palm Beach, FL
Age: 67
Relationship Status: Divorced
Languages: English
Ethnicity: Caucasian/White
Religion: Christian
Orientation: Straight
 About me:
     Music:
Country, 60's 70's & 80's Pop & Rock
      TV:
Whatever is on, but my preferences are comedies and crime dramas. NCIS, CSI, L&O,Cold Case,Blues Bloods, The Big Bang Theory Roseanne, Modern Family, Friends, The Simpsons
      Books:
I don't read. Don't, as in do not. Not don't, as in can't. I'm not illiterate
      Sports:
Football, soccer (Steelers and Buccaneers), Hockey, (Penguins and Lightning) Golf and NASCAR
      Interests:
I love the outdoors! I enjoy fishing, riding bicycles, walking, going to concerts, parks, flea markets & yard sales, the beach and working in the garden or yard. Inside, I like cooking. card & board games, and of course cuddling while watching movies. Going out: indoors, I like social drinking, slow dancing, pool & dart tournaments. Outdoors I like picnics, BBQ's, Frisbee, horseshoes and mini-golf. I like adventure, and discovery. I like driving, with or without a particular destination in mind, finding roadside attractions, diners and out of the way places to explore
      Dreams:
Happiness, friendship and an everlasting love with my woman, companion, best friend and love
      Best Features:
My personality, humor and ability to love and care
     About Me:
Life is an adventure and you only live once. You never know where it's going to lead, or whom it will lead you to. I ask for RESPECT and I give it in return. I'm a happy and independent, go with the flow kind of man. I take life one day at a time. I like to have fun and enjoy life. I enjoy laughing and making others laugh. I'm REAL, single, employed and mobile. An honest, faithful and dedicated man. I'm funny, sweet and romantic. A city boy with a country attitude
      More:
I'm a real man that doesn't play childish games like wannabe men. If you're interested and looking for someone that's nice and respectful, who'll treat you like a woman, then drop me a line. I'm here to find love and play pets. That's it. I'm not interested in hundreds of friends I never talk to, or will never meet. I'm not interested in chatting unless it's with someone interested in me for romance. This site is full of fakes, spammers and scammers, and I don't have time for that nonsense. That means, if you're going to try and talk to me, make sure your profile isn't private. That's a game. Come at me real. If you don't and choose to play games, you'll be blocked. CLEAR?
Tagged.com. INBOX:

Jacob B, 67 West Palm Beach, FL
Hello how a you doing today, you look so pretty in that pics, you are an epitome of beauty, i will like to know more about you

Good morning

(name removed)

, how are you doing today..Sorry for the late response..I was going trough the site when i saw your profile and your picture as a good and responsible woman, im here for a real and and serious relationship, looking for a good and God fearing woman…I will like to read back from you and get to know if you are here for the same thing either..
Good morning

(name removed)

, how are you doing this morning, sorry for the late response..i was going trough the site when i saw your profile and your picture as a good and responsible woman, im here for a real and serious relationship, looking for a good and God fearing woman..i will like to know more about you and tell you more about my self..Hope to read back from you soon
Good morning

(name removed)

, how are you doing this morning..Sorry for the late response..i just come on the site and saw your message..i will like to know more about you and tell you more bout myself, but i dont come on the site often, do you text at all, if so hope you can give me your number to text you and talk much better
Visit us HERE: