In the first instance you should go here and read our advice page. It is just our general guidance to help you
Fast and furious, and we are bit short of information  so  we get that down and also their pictures if we can.  We don't want them to miss out on our treats.  We  are nice like that.  Hopefully  life is a little harder for them and it will help save you wasting money sending it to Nigeria/Ghana/Senegal/Côte d'Ivoire/Benin etc.


You have to remember if it walks like a duck,  talks like a duck, and looks like a duck then there is a better than evens chance it IS a duck
Romance Scam   
Loan Scam
Phishing
Steven Smith
(South Africa)
Tagged.com:
Steven S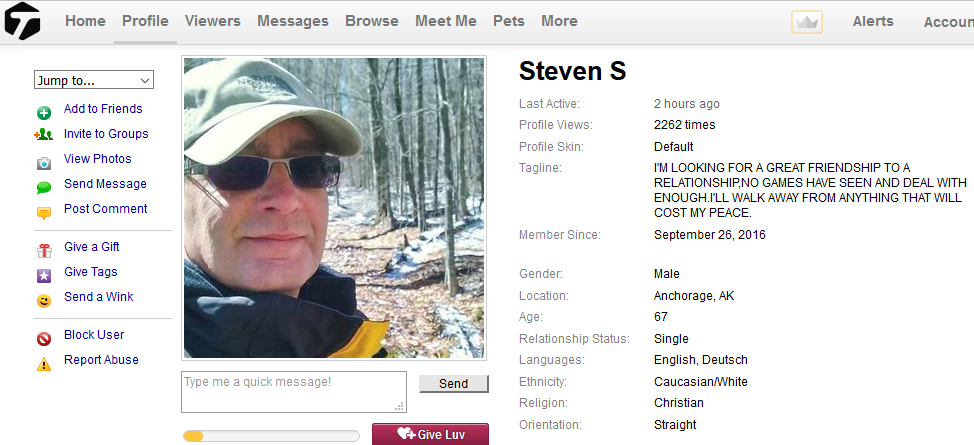 PROFILE INFORMATION:
Tagline: I'M LOOKING FOR A GREAT FRIENDSHIP TO A RELATIONSHIP,NO GAMES HAVE SEEN AND DEAL WITH ENOUGH.I'LL WALK AWAY FROM ANYTHING THAT WILL COST MY PEACE.
Member Since: September 26, 2016
Gender: Male
Location: Anchorage, AK
Age: 67
Relationship Status: Single
Languages: English, Deutsch
Ethnicity: Caucasian/White
Religion: Christian
Orientation: Straight
Music:
actually Music is love, love is music, music is life, and I love my musics life,A variety of music but mainly R&B, Pop, Rock, Rap, Country,antebellum country,classic rock,blues
Movies:
Action, Comedies, Romance and Horror, speed I like the good old Happily every after along with good suspense and comedy,Pirate & vampires.
TV:
Z nation, The Walking Dead, and Once Upon a Time. That's just to name a few, NCIS, Survivor, Amazing Race, cooking shows and the private investigator teams
Books:
Lincoln in the Bardo, by George Saunders The Cake And The Rain, by Jimmy Webb The Ocean Fell Into The Drop, by Terence Stamp Shark Drunk: The Art Of Catching A Large Shark From A Tiny Rubber Dinghy In A Big Ocean, by Morten Stoksnes Exit West, by Mohsin Hamid
Sports:
Not realy into sports–I like to watch Nebraska play football. I like watching the Jazz live and that is about it. but Patriots and Red Soxs. Soccer,basketball and football and NASCAR and baseball!
Interests:
Crafts, Reading, Cooking, Gardening,fishing,walking the beach ,camping,boating,riding quads/motor cycles ,horse back riding,laying in the sun,crafts,car shows (muscle cars-favorite is 68 camaro or gto , vettes.racing,gardening,shooting pool/darts.wind chimes,scented yankee candles,painted wood/glass. my dog . sitting on a porch listening to it rain,road trips in nature,quiet places.music.cuddling.shooting guns.I like hearts,roses (red) and dipped are pretty,lepoard print designs,Rubies.
Dreams:
To always be the one who holds the pen when writing my story,a log cabin w/fireplace,nothing big or fancy with a hot tub on a deck and my best friend to fish with. or beach house,nothing big or fancy just cozy and walk the beach in the am and at sunset with my best friend :),a Man can dream can't we 🙂
Best Features:
my heart,I'm honest,real,down too earth.treat others the way I want to be treated, and my self is Dimples I guess and smile,My eyes and my hair
About Me:
right now am just looking for a very strong friendship that will lead to a beautiful relationship. Someone to hang out with.I am a little bit shy,i am looking for someone who ready to be loved and loved back in return. My life is tlonely and boring o complicated right now and tired of been single and lonely .AND I WILL LIKE TO TALK TO YOU TO TELL YOU MORE ABOUT ME, AND MAYBE THEN YOU CAN GET TO SEE ME FACE TO FACE OR EITHER ON VIDEO TO VIDEO, I am a single dad divorce long time ago working hard and enjoying each day along the way. I am just a down home man at heart even tho I have lived in the city for over 45 years. I believe in helping your neighbor, being honest to everyone including yourself and living life to the fullest.
more about me and the truth:
I have a problem with being told to do something like a baby. You can hint, suggest, bribe me with a kiss or maybe love making as couple but not control me. We had a wonderful life together till she totally shut me out.i never want to go through that ever again at the stage of my life ,this is why i need someone to totally love & be by my side. I love to make a wonderful home for my woman & spoil her to death.
more:
if we get to chat maybe, i will share or send naked pictures , i will only answer things that are not said on my profile, lastly please don't reply or send a message if you are not equal to what am looking for. NO GAME ,NO DRAMA, NO FAKE PEOPLE AND NO LIES
Be Ready:
Please do not contact me if we do not match, i am here to find my match. who knows what she want and ready to concentrate in a truthful relationship
more about me:
straight up tell it like it is and call it like I see it but not afraid to admit if i'm wrong. one grown kids in Alaska
just you know:
where two people can work together on things that are common to both and yet retain our own identities and independent natures. I would welcome the challenge of such a relationship that may have the possibility of evolving into something more or not
Tagged.com. INBOX:
Steven S, 67 Anchorage, AK:
nice to meet you

am Steven Smith

do you have cell phone

i miss talking to you

getting ready to get in the plane

i just landed in Johannesburg this mornig

how are you doing this morning

i hope you dream about me ?

honey can you come join me here in South Africa till i finish my contract and we can both return to US when am done

could you please go to the airport and change my flight for me so i can leave on tuesday.

i dont have money here

and my card is not activated to this place

i will never ask a woman money

i have never done that and i will not start now

i have my own money i even hate men who ask woman for money

i just want you to help me do it
Visit us HERE: