In the first instance you should go here and read our advice page. It is just our general guidance to help you
Fast and furious, and we are bit short of information  so  we get that down and also their pictures if we can.  We don't want them to miss out on our treats.  We  are nice like that.  Hopefully  life is a little harder for them and it will help save you wasting money sending it to Nigeria/Ghana/Senegal/

Côte d'Ivoire/Benin

You have to remember if it walks like a duck,  talks like a duck, and looks like a duck then there is a better than evens chance it IS a duck
419 Scam
Romance Scam
Loan Scam
Willy M
Phone number:

605-610-1619
Tagged.com:
Willy M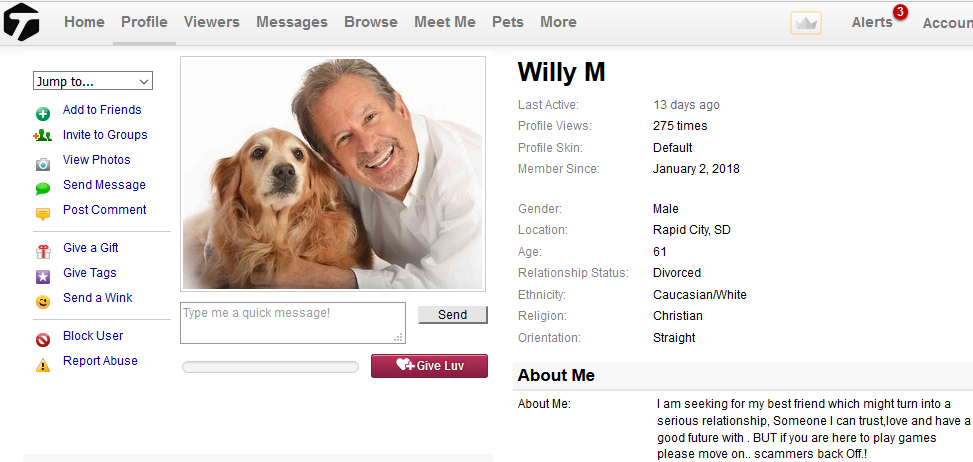 PROFILE INFORMATION:
Member Since: January 2, 2018
Gender: Male
Location: Rapid City, SD
Age: 61
Relationship Status: Divorced
Ethnicity: Caucasian/White
Religion: Christian
Orientation: Straight
      About Me:
I am seeking for my best friend which might turn into a serious relationship, Someone I can trust,love and have a good future with . BUT if you are here to play games please move on.. scammers back Off.!
Tagged.com. INBOX:

Willy M, 61 Rapid City, SD:
Nice to meet you!

I'm glad you are well, I am also good .. And it's my pleasure meeting you

(name removed)

.. I was going through profile and found yours very interesting and thought I would say hi .. it would be my biggest pleasure to stay in touch and get to know you well .. perhaps we could meet for a cup of coffee if you wouldn't mind .

Welcome every morning with a smile. Look on the new day as another special gift from your Creator, another golden opportunity to complete what you were unable to finish yesterday. Be a self-starter. Let your first hour set the theme of success and positive action that is certain to echo through your entire day. Today will never happen again. Don't waste it with a false start or no start at all. You were not born to fail.. I trusted you are doing pretty good? Sure I wouldn't mind to meet you anywhere around the world .. Do you have a phone number I can text you? Hope to hear from you soon. Smiles, Willie

I live in Rapid valley, I don't know if you had been there before .. But it's beautiful here .. And also willing to relocate anywhere around the world if I find the rightful woman .. I mean the woman of my dreams .. I am a jewelry designer here .. I design all kinds of jewelries , wedding rings, engagement rings,earrings, bracelets and many others .. I inherited this profession from my late dad.. He was the one who taught me how to air jewelries .. I miss him so much and may his soul Rest In Peace .. Do you have any siblings .? Are your parents still alive ?

Wow you are blessed to have children's .. I have one daughter she's married and living with her family .. she comes for visit ones in a while due o her work .. she's al I got ..

I don't have any grandchildren .. I love kids so much and always want to be around them.. I love to play and have fun with them.. Like hide and seek.. it makes me feel so young.. Guess you would share your children and grandchildren with me if you wouldn't mind . Lol

Thanks beautiful, do you have a phone we can text ?

I just tired to call you but didn't go through .. so I texted

605-610-1619
Visit us HERE: