In the first instance you should go here and read our advice page. It is just our general guidance to help you
Fast and furious, and we are bit short of information  so  we get that down and also their pictures if we can.  We don't want them to miss out on our treats.  We  are nice like that.  Hopefully  life is a little harder for them and it will help save you wasting money sending it to Nigeria/Ghana/Senegal/

Côte d'Ivoire/Benin

You have to remember if it walks like a duck,  talks like a duck, and looks like a duck then there is a better than evens chance it IS a duck
419 Scam
Romance Scam
Edward Posey

(South Africa)
ADMIN:

The scammer used the email address:

jameswillu222@gmail.com

Names:

James Williams

Nicolas Scott
Tagged.com:
Edward posey P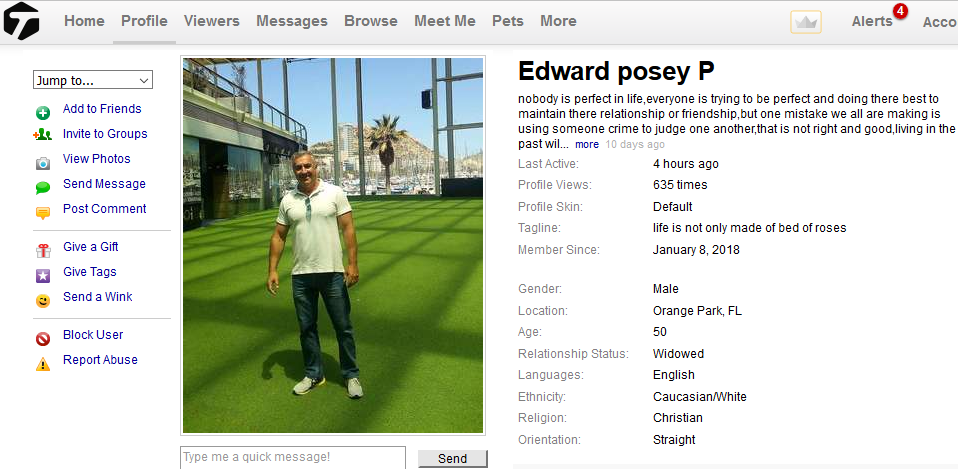 PROFILE INFORMATION:
nobody is perfect in life,everyone is trying to be perfect and doing there best to maintain there relationship or friendship,but one mistake we all are making is using someone crime to judge one another,that is not right and good,living in the past wil…
Tagline: life is not only made of bed of roses
Member Since: January 8, 2018
Gender: Male
Location: Orange Park, FL
Age: 50
Relationship Status: Widowed
Languages: English
Ethnicity: Caucasian/White
Religion: Christian
Tagged.com. INBOX: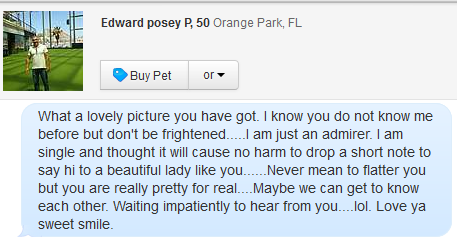 Edward posey P, 50 Orange Park, FL:
    What a lovely picture you have got.I know you do not know me before but don't be frightened…..I am just an admirer.I am single and thought it will cause no harm to drop a short note to say hi to a beautiful lady like you……Never mean to flatter you but you are really pretty for real….Maybe we can get to know each other,Waiting impatiently to hear from you….lol. Love ya sweet smile.
Thanks for the answer, I think that would be formal, if I can introduce myself. I'm Edward Posey. I am from United States (America). I am a Civil-Structural Analyst and field work as a guarantor for my company, my job takes me to a different part of the world.
I am a widow, lost my wife some years ago,for cancer of the breast.
I had only one Son (Peter), which is only 12 years of age and stay with my Mom in Bahamas because of the nature of my work. He says he wants to grow and become a professional dancer. I spend my quiet time listening to music and reading. This is basically me summed up in those 6 lines.
Take care and hope to hear from you soon
do you have hangout my dear
i an not on facebook since my account got hacked
lets talk at hangout it very easy and fast through communication
i will search for you my dear
just add you up in facebook my dear friend
please do accept me Edward Posey
anyway let me have your number so that i can call and text you
Profile of the same scammer:
Facebook.com:
Edward Posey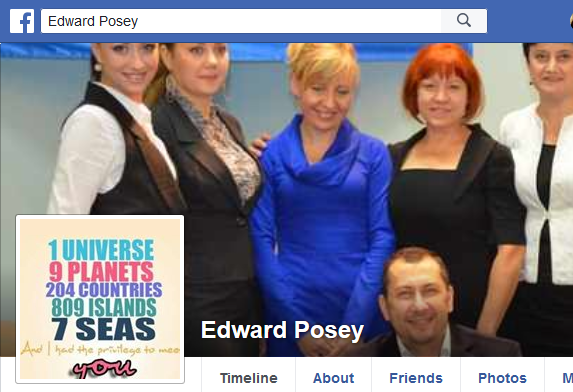 Visit our INFORMATION PAGES:
You can subscribe to our website from the box in the right column to get information about new posts.
If you subscribe please check your SPAM BOX