In the first instance you should go here and read our advice page. It is just our general guidance to help you
Fast and furious, and we are bit short of information  so  we get that down and also their pictures if we can.  We don't want them to miss out on our treats.  We  are nice like that.  Hopefully  life is a little harder for them and it will help save you wasting money sending it to Nigeria/Ghana/Senegal/

Côte d'Ivoire/Benin

You have to remember if it walks like a duck,  talks like a duck, and looks like a duck then there is a better than evens chance it IS a duck
419 Scam
Romance Scam
Philip M
Phone number:

6165412959
The scammer also used:

E-mail addresses:

rubylwcares@aol.com

mike_bowen1960@yahoo.com

Names:

Ruby Timberlake

Mike Bowen

Alex Williams

Tiffany William
Tagged.com:
Philip M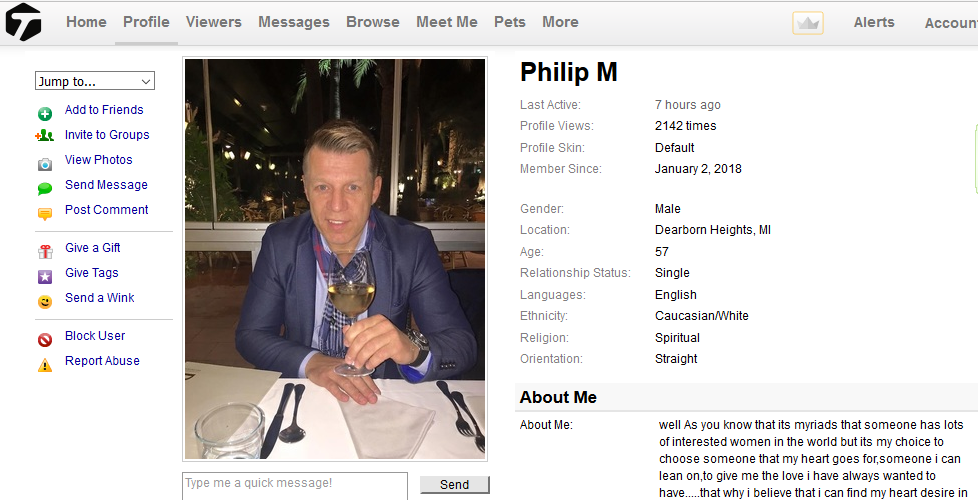 PROFILE INFORMATION:
Member Since: January 2, 2018
Gender: Male
Location: Dearborn Heights, MI
Age: 57
Relationship Status: Single
Languages: English
Ethnicity: Caucasian/White
Religion: Spiritual
Orientation: Straight
About me:
well As you know that its myriads that someone has lots of interested women in the world but its my choice to choose someone that my heart goes for,someone i can lean on,to give me the love i have always wanted to have…..that why i believe that i can find my heart desire in any where in the world distance matter nothing to me in a relationship what matter is what we share together, So tell me about yourself,what you do and everything you need to tell me about yourself…and lets see how it goes from here.But anyway,Here's a little info about me I like to go out to dinner, go dancing, go to the movies, workout, travel, see new things. I enjoy the simple things like the ocean, cuddling at home watching a movie with someone special, I'm a extremely romantic, passionate and affectionate man. Yes I am an open minded person,trustworthy,cool,loving,caring,understanding, down to earth.I been straight and want same in return cos i wont treat people the way i don't want to be treated. 
Tagged.com. INBOX: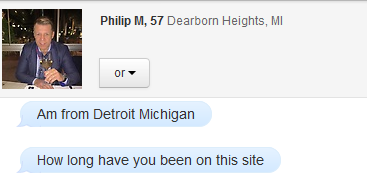 Philip M, 57 Dearborn Heights, M:
How are you

Where are you from

Am from Detroit Michigan

How long have you been on this site

How has your experiences been so far

What do you do for a living

Can I have your number so we can text I promise not to call until you want me to

I don't come on here often but I want to get to know you

I just sent you a text

6165412959 text me

And I am in the states

Visit us HERE: