In the first instance you should go here and read our advice page. It is just our general guidance to help you
SCAM/SPAM
Advance Fee Fraud
Parcel Delivery Scam
Phishing
Peter Douglas
(UN Inspector Agent)
Bnhhyyh21@space.ocn.ne.jp
dip.pdouglas77@gmail.com
 




Used e-mail addresses:
a11@ccxv6.website.tk
a17@chika6.website
perterdouglas1111@gmail.com
perterdouglas2@gmail.com
peterdougklas11@gmail.com
Message on a mail box:
[Reply-To: dip.pdouglas77@gmail.com]
From: Peter Douglas 

Bnhhyyh21@space.ocn.ne.jp




To: XXXX




Date: XX January 2018




Subject: For Your Prompt Attention:
I am Peter Douglas, United Nations Inspection Agent in Hartsfield Jackson Atlanta International Airport Atlanta GA. We are conducting second phase audition, all abandoned Consignment in USA Airports are being transferred to our facilities here for inspection and confiscation. During our investigation, I discovered an abandoned luggage on your name which was transferred to our facility here in Hartsfield Jackson Atlanta International Airport and when scanned it, it revealed an undisclosed sum of money in a Metal Trunk Box. The consignment was abandoned because the Content was not properly declared by the consignee as money, rather it was declared as personal effect to avoid diversion by the Diplomatic Agent also the Diplomat inability to pay for Non Inspection Fees. On my assumption, the box will contain more that $6M and the consignment is left in storage house till today through a Courier Dispatch Service. The Consignment is a metal box with weight of about 162LBS (Internal dimension: W61 x H156 x D73 (cm) Effective capacity: 680 L)Approximately. The details of the consignment includes your name, the official document from United Nations office in London all are tagged on the Metal Trunk box.
I want to use my good office and clear the Consignment and deliver it to you. If you WILL ACCEPT MY CONDITION and want us to transact the delivery for mutual benefit, you should provide Your Name, Phone Number and Full Address, *(!) to cross check if it corresponds with the address on the official document including the name of nearest Airport around you and other details. You should send the required details to me for onward delivery. All communication must be held extremely confidential, I can get everything concluded within 24 to 48hours upon your acceptance and proceed to your address for delivery. But it must be on the condition that you will give me 30% of the amount contained in the box and i must get assurance from you concerning my 30% before i will proceed. I want us to transact this business and share the money, since the shipper have abandoned it and ran away. I will pay for the Non inspection fee and arrange for the box to be moved out of this Airport to your address, Once i am through, i will deliver the consignment by myself to avoid any more trouble. But the sharing formula will be 70% for you and 30% for me, you have to assure me of my 30%. Do respond to me if you are interested to conclude this with me.
Regards,
Peter Douglas
INSPECTION OFFICER
Fake scammer Profile with the name "

Peter Douglas

":
Facebook.com: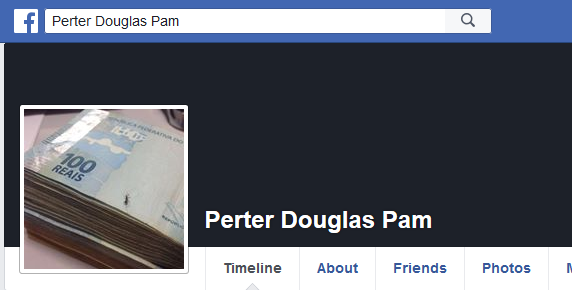 *(!) Never send your personal details to anybody on the Internet! 
 DO NOT CLICK the LINKS IN SUCH LETTERS! 
If you get this message do not reply! Put it in your trash box
Visit our INFORMATION PAGES:
You can subscribe to our website from the box in the right column to get information about new posts.
If you subscribe please check your SPAM BOX