In the first instance you should go here and read our advice page. It is just our general guidance to help you
419 Scam
Romance Scam
Garrette Wood
garrettewood10@outlook.com
Phone number: (360) 889-8413
Used also:
The e-mail addresses:
daniel_peter2012@live.com
john_walker8977@hotmail.com
mvelly84@yahoo.com
petewilliams6021@yahoo.com
remleymills@hotmail.com
The names:
Daniel Peter
Joevelly King
John Walker David
Peter Williams
Remley Mills
Hi5/Tagged.com: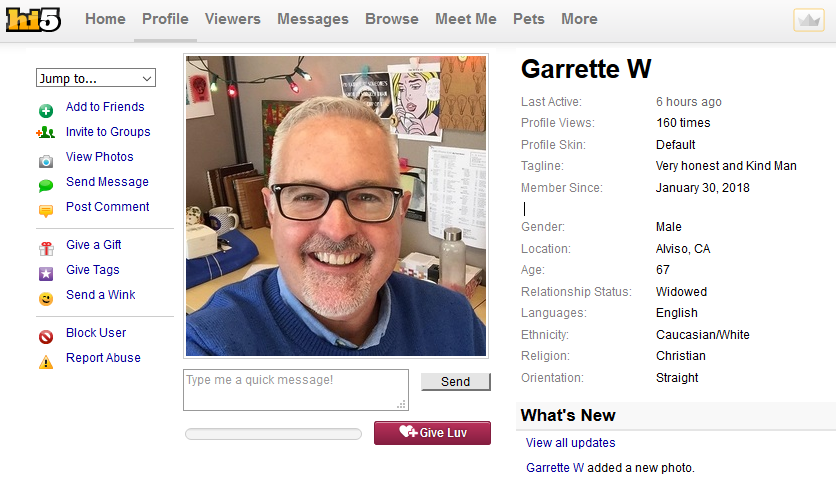 PROFILE INFORMATION:
Tagline: Very honest and Kind Man
Member Since: January 30, 2018
Gender: Male
Location: Alviso, CA
Age: 67
Relationship Status: Widowed
Languages: English
Ethnicity: Caucasian/White
Religion: Christian
Hi5/Tagged.com. INBOX:


Garrette W, 67 Alviso, CA:
you look cool
you are welcome, due to my work will be glad to know more about you, you can drop me your email address. thank you
very happy to read from you, you can drop me your email address
will send you an email shorly
hope to receive reply from you so we can proceed , i care
Message on a mailbox:
From: Garrette Wood 

garrettewood10@outlook.com




To: XXXX




Sent: February XX, 2018




Subject: FROM GARRETTE
My Pretty Angel:
I am Garrette Wood raised and born in United state ,I am an Engineer work with Vessels as their repairer
and I travel alot through ship , lost my wife and kids through fatal accident years back.
You are really a beautiful woman and i enjoy all our conversation so far, I
also believe that Destiny has really brought us together but not by my own
strength but God has his reason for us to meet at this point,
Where have you been for so many years that i have
been looking for you, i can't really believe that a woman like you still
exist that has the good qualities i have been
looking for in a woman, I know that in my heart i will never cheat on you and
i have never done that before because you know that this life is too short
for such thing to happen, so that was why You need trust to love, but first
you need to love in order to trust. To love someone is to understand each
other, to laugh together, to smile with your heart and to trust one
another. One important thing is to let each other go if you can't do
this.Love is like a wonderful feeling of compassion and
satisfaction. It should be given respect and trust and it should receive
that love back. The best proof of love is trust.
True love is the greatest thing that you can experience; it can weather any
storm. Loving, trusting and respecting each other totally can bring you to
true love and happiness.my mobile: (360) 889-8413
It is hard to love and hard to trust; but finding love and finding trust
was a gift from you to me. Relationships should never be taken for granted.
The choice of being with another life is an amazing thing. Trust, loyalty
and respect are a must for eternal happiness. No matter how much you love
someone if you don't
have these ingredients you will never succeed. To be in love means being
patient but to be patient you must trust him or her first. You can never
find love through the eye or ear, so you must trust the only thing that
will never fade until you die, your heart. Love is like trust, when you
find your special someone it is as if you're trusting them with your heart.
Trust is what you put in someone's hands.Faith is what you hold on to.
Trust is what makes everyone realize that you are always there for them.
Faith is what makes everyone realize that you are always there to help them
in case they need some help. Love makes not everyone, but the only one in
your life who is special, think that you are always there for him, to be
with him, to cherish , to fulfill her dreams, to share with her and most of
all, to make her realize how much you really love her. Distance doesn't
matter if you really love the person, what matters most is your honesty and
trust for that relationship to work out. Without romance, love gets dry.
Without respect, love gets lost.
Yours Garrette
Attachments: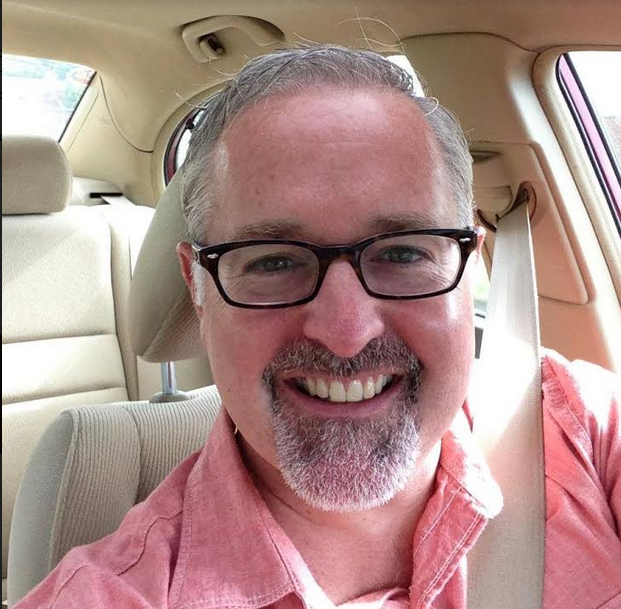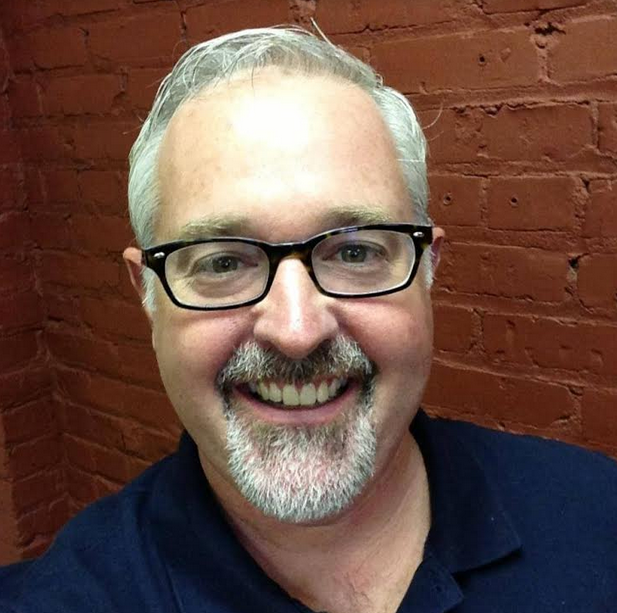 Message N 2:
From: Garrette Wood

 garrettewood30@gmail.com




To: XXXX




Sent: February XX, 2018




Subject: Re: HOW ARE YOU
My Pretty Angel: (name removed),
How are you today and how was your day ,can't do without dropping a mail, I
do hope you are having a nice time and thank you so very much for the sweet
mail I kept thinking of you, and i get wonderful flutters in the pit of my
stomach each time I read from you. Your message makes my day so much
fulfilled and i am getting to have feelings for you and you do not have to
blame me for this just telling you how am feeling right now. I love warm
weather, tropical drinks and sandy beech I love to be out with friend's
party and have fun, and then maybe go out for a candle light dinner in a
quiet and take a walk to the beech side restaurant with the woman of my life
I am willing to relocate to secure foundation for a steady relationship.
I love romantic evenings, and bedroom talk. I'd like a woman who recognizes
the little things I do for her and knows how to be appreciative. For
instance, if I were to make breakfast in bed or draw a bath for her just to
show her love, he could thank me by giving me a hug or a kiss. Or perhaps
sending me a card for no particular occasion just to tell me 'thank you. I
am very appreciative of what my woman do for me and I will reward her in my
own little ways. To me, it's the little things that mean a great deal to
me.What does it really mean to be affectionate? I love to display my
affections for my woman anytime and anywhere without having to be shy.
Because I love being affectionate. I like a woman who is open to ideas,
thoughts basically open minded and can help the poor. I think being
receptive brings about sensitivity as well. A woman who is ignorant, mean,
and just plain insensitive would find it difficult to get along with. I
would say that I'm not afraid to display my emotions. I'd like my woman to be
sensitive and caring. If I'm sad, I'd like for her to be able to comfort me
and cheer me which is more than good enough.Have you ever had someone not
stand up for you? I would never allow someone to hurt my woman, and I would
always stand up for her. One thing I will always do for my woman is to
protect her even with my last breathe . I will never lie to you. i hope
this would be ok. i would be looking forward to read from you soon.have a
wonderful day. I must confess, I am falling in love with you and will
do my best to make the relationship last a lifetime.
Thanks
Sincerely
Yours Lovely Yours Garrette

Visit our INFORMATION PAGES:
You can subscribe to our website from the box in the right column to get information about new posts.
If you subscribe please check your SPAM BOX