In the first instance you should go here and read our advice page. It is just our general guidance to help you
Fast and furious, and we are bit short of information on

MICHAEL R 

so we get that down and also their pictures if we can. We don't want them to miss out on our treats. We are nice like that. Hopefully life is a little harder for them and it will help save you wasting money sending it to Nigeria/Ghana/Senegal/

Côte d'Ivoire/Benin/Togo etc.

You have to remember if it walks like a duck, talks like a duck, and looks like a duck then there is a better than evens chance it IS a duck
Romance Scam
Loan Scam
Michael R
Phone number:

+1 918-552-0956
Tagged.com:
Michael R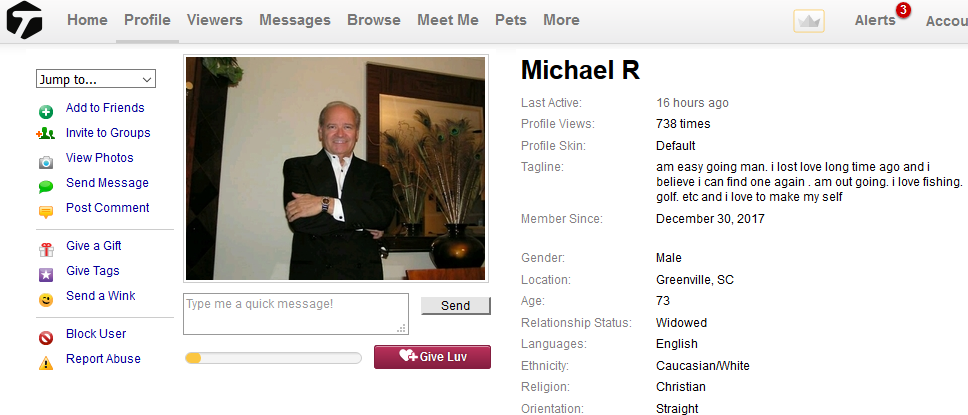 PROFILE INFORMATION:
Tagline: am easy going man. i lost love long time ago and i believe i can find one again . am out going. i love fishing. golf. etc and i love to make my self
Member Since: December 30, 2017
Gender: Male
Location: Greenville, SC
Age: 73
Relationship Status: Widowed
Languages: English
Ethnicity: Caucasian/White
Religion: Christian
Tagged.com. INBOX: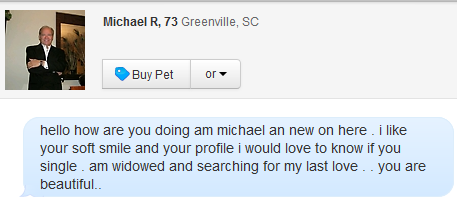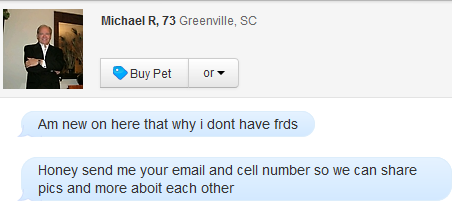 Michael R, 73 Greenville, SC:
hello how are you doing am michael an new on here . i like your soft smile and your profile i would love to know if you single . am widowed and searching for my last love . . you are beautiful..
Am new on here that why i dont have frds
Honey send me your email and cell number so we can share pics and more aboit each other
Send me ur cell number
Am from oklahoma
INFORMANT:
You are not from South Carolina. It says Grenville
Michael R:
I move to Oklahoma bcos am living alone and it killing me
I have been single for long
Please DO NOT tell the scammer he is posted here!
Visit our INFORMATION PAGES:
You can subscribe to our website from the box in the right column to get information about new posts.
If you subscribe please check your SPAM BOX